Difference between revisions of "Main Page"
From NKN Community Wiki
(Add disk space info)

Line 24:
Line 24:

|Low-end Computer

|Low-end Computer

|Desktop, Laptop, Server, VPS, NAS, or a Raspberry PI, etc.

|Desktop, Laptop, Server, VPS, NAS, or a Raspberry PI, etc.

|-

|-

|Decent Internet

|Decent Internet
---
Revision as of 08:50, 13 October 2021
Welcome Miners!
This wiki has been built by the community to help you participate in the New Kind of Network (NKN).
If you ever find yourself stuck, visit us on the official NKN Community Discord.
Guides
Mining Requirements [TL;DR Version]

| | |
| --- | --- |
| Low-end Computer | Desktop, Laptop, Server, VPS, NAS, or a Raspberry PI, etc. |
| Disk space | 30GB is a minimum |
| Decent Internet | Fast (~10mbps), stable, unmetered, and preferably not on WiFi. |
| Public IP Address | You can port forward off your home router. Nodes cannot share a Public IP. |
| 10.1 NKN Mainnet | Mainnet Tokens for the Node Staking Requirement. Used to generate the Node-ID. |
| Basic IT Skills | SysAdmin with basic knowledge in OS and Networking (port forwarding). |
"You're not going to buy a Lambo tomorrow, but you can generate small and consistent revenue with your unused resources."
Asking for Help
We're present on multiple platforms. You will typically get the fastest response on Discord.
Discord Guidelines
We encourage you to stay around for a while after you ask a question. Listen to the various discussions in different threads. Someone will likely have an answer to your question once they check in. If you don't get a response someone might not know the answer or the person who knows it is hasn't read it yet.
To assist those looking for help, please make use of the off-topic channel to lower the noise for others. This also helps reduce the backlog so that others can catch up.
If you want to draw someone's attention, type their name to ping them. Don't be rude though.
To prevent flooding the channel, please also use a service like https://bpaste.net/ instead of pasting your logs directly.
You can also set the Discord notifications setting to "Mentions only" so that you will only be disturbed when someone writes your name.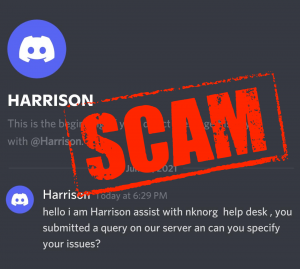 Staying Safe on Discord
Asking for assistance can result in private messages from scammers pretending to be "admins" or "support staff." Stay in the public threads so that Admins can moderate conversations. Be wary of sharing any private information.
If anyone approaches you in a private message:
Assume they're a scammer
Check if they have an admin role
Never disclose your wallet information
Never click on shared links
Notify an Admin so they can be banned
Direct support with the NKN Team is only through swap@nkn.org or contact@nkn.org.
Credits
Hosting & Admin: AL
Support the project, donate to NKNQUttrQxNcY6cT9EmaKBT6ijshV1UZt4x2